Consulting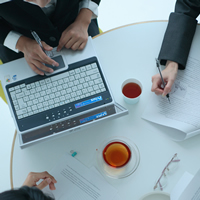 Complex and large scale computer simulation has been available under the situation of improved computational performance, enhancement of multi core processor and development of sophisticated numerical analysis methods. However as the complexity of problems to be modeled or simulation technology are increasing, duration for modeling is also increasing. In addition, in the case of trying to apply new analysis method, it is difficult for designers to make time to trace the theory of the new method and to learn how to use the CAE software in their business hours. So we support designers and engineers to select proper CAE software, how to use the software, modeling and so on for the purpose of performing simulation.
We also support to make the best use of your CAE software. For example, analysis capabilities of structure, heat transfer and so on are implemented in many CAD software. However these ad-on capabilities may not be used effectively. Or it is supposed that there are not a few cases in which iherent capabilities of purchased CAE software cannot be derived sufficiently. We can assist that the existing software resources become more valuable. Furthermore we support the engineers who understand the importance of CAE software but have concern about possibility not to be able to use these software at the beginning of use of the software.
---
Simulation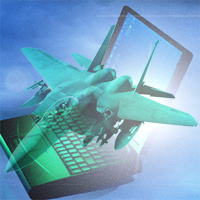 Computational simulation is regarded as the third approach to investigate engineering problem equally to theory and experiment. Simulation can play an important role for the solution of the problem which is difficult to understand by only theoretical and experimental approaches. Typical such cases are enumerated as follows;
Prediction of the performance of a product without the prototype or the real product. This design procedure is called as virtual prototyping.
Estimation of the best combination of shape, dimensions, material and so on from multiple possible designs, or optimal design which maximizes the target performance. It is not realistic that all the combination of design parameters are tested as the cost and time increase remarkably.
Recreation of phenomena which is impossible to realize or needs huge cost like prediction of damages of structure caused by disaster like earthquake or tsunami, crash or capsize of a ship, bird strike of airplane, impact of high velocity projectile to space ship, severe accident of nuclear power plant and so on.
Prediction of injury in the situation in which experiment is restricted because of risk of human body like vehicle crash, accident between bicycle and pedestrian, drop accident of child and so on.
Problems which are difficult to execute experiment or observe as real event like above can be recreated and estimated in the simulation. We propose modeling, execution of simulation, estimation of the result and suggestion to apply the simulation result effectively to research, development and design of real product.
---
Technical Training Program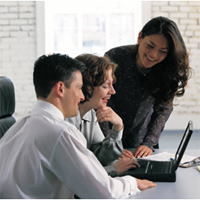 Preliminary background for mathematics, physics, mechanics of materials, Finite Element Method and so on is absolutely necessary to use CAE software. One may be able to use CAE software as a black box. But the responsibility to verify and validate whether the result of the simulation is appropriate or not is given to the user of the software. For example, in case of structural analysis, input data including element formulation, initial condition, loading condition, constrained condition, material model and so on should be checked very carefully. There is a possibility to produce defective products or cause serious accidents when product development is performed using result of simulation derived from wrong input data.
We propose various technical training services for the engineers who want to know basic knowledge of simulation technique and CAE software, who want to get further knowledge of analysis technique, who want to learn the background of up-to-date analysis like meshfree method, fluid-structure coupling, latest optimization method and so on and want apply them to practical work. We can also prepare the training course to learn preliminary knowledge from the first step before purchasing CAE software.
---